FREELANCE WORKER SINCE 1997
Louis-David de Campos Venancio (facebook) & https://www.facebook.com/3DLibre/
Mobile Portugal : +351 925 597 148
Mobile France : +33 7 74 19 73 03
Personal Website : http://david.venancio.free.fr
Project Story
2009 : I saw my first RepRap in Paris at the /tmp/lab .
2013 : First REPRAP MendelPro built at home at night and 15 Kg of PLA 3D-Printed ! First clients who show interest in the objects and proof that they are sellable ! Thanks again to MixArt-Myrys and TetaLab.
2014 : Transformation from "MendelPro" (I broke it) to "Prusa i3 Rework", with the help of eMotion-Tech. Also I worked as freelance for Tournefeuille's "Mediathèque" close from Toulouse in very hard conditions on my part but excellent help from their staff... btw rooms were crowded at maximum which is a very good point. I had 8 slots and had to manage 10 to 11 people each time! Sessions were on Sunday from 09am to 12am then 2pm to 5pm just to let people enjoy the rest of the saturday (chosen by the management). I was paid 375€ per Saturday there but they only happened 6 times in the year. One day I hurt myself the day before and couldn't go so the new director asked me to completely stop which was a "no pity" style management for a freelance tbh... The workshop ran super well each time ! People were very happy... that's why I'm so sad about that relation with the Mediathèque.
2015 : Print Print Print and Workshops still at @Tournefeuille 6 saturdays. I also built my *second* RepRap bought in part from EricDuino and eMotion-Tech for the missing Nema17 steppers.
2016 : Printing and programing the GrippyBot. Moved from Toulouse to Albi. (less 3D-Printing, just relaxing, took 15 days of holidays abroad)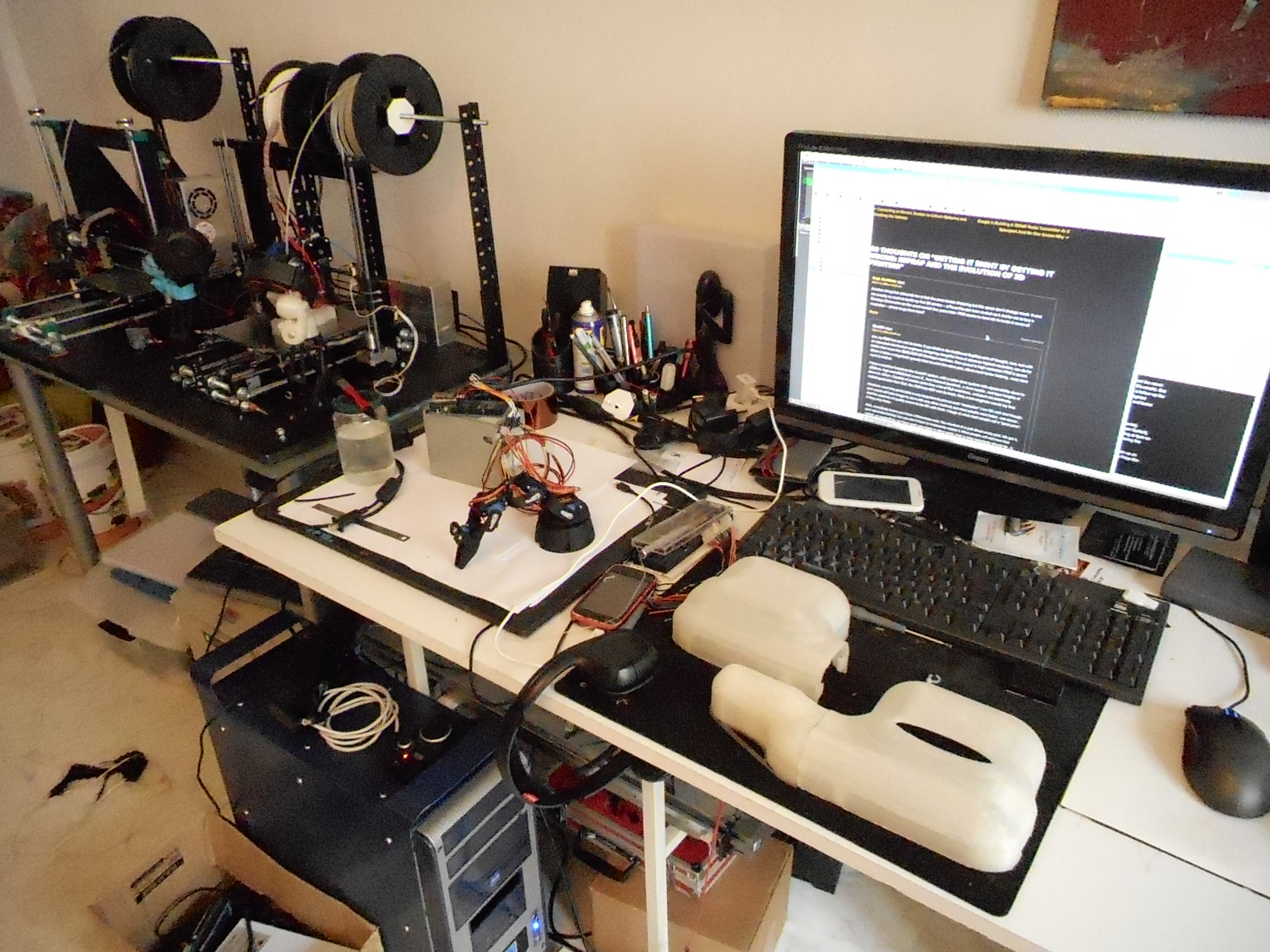 2017 : Moved from Albi to Santiago-do-Cacèm - Portugal. (with still some travels to Toulouse with my blue Renault Trafic !) (still 3D-Printing on the move !)
2018 : Lots of 3D Printing again for all sort of people !
2019 & 2020 : New setup and contacts ! STILL 3D PRINTING !